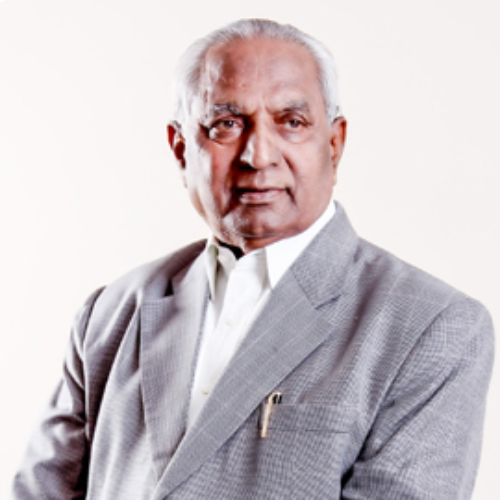 As a Minister of State for Industries and Urban Development, Maharashtra State, he pioneered the growth for the industry in the region. He has played instrumental role in establishment of various organizations like Navmaharashtra Spinning Mill, Indira Gandhi Spinning Mill. Dattajirao Kadam Technical Education Society (D.K.T.E.) founded in Ichalkaranji by Mr. K. B. Awade has been imparting techno-acadamic education and turning out engineers and technocrats of high caliber. The Society has also branched out for education from K.G. to higher studies to provide quality education. Bilateral agreements with renowned universities in USA have enabled mutual co-operation and exchange of knowledge. Recently, DKTE has been granted Centre of Excellence for non-woven textiles by Union Government. His personality and stature in social life has earned him a place of pride in Maharashtra and we are honored to have such an inspirational leader with us.
Mr. Prakash Awade ( former Minister of Textile, Maharashtra State) is very well known and respected figure. He has taken multitude of efforts to promote the textile industry. As a Minister of Textile, recommended to the State Government and announced 23-Point Rejuvenation Scheme for textile industry, which uplifted the industry passing through crisis. Low rate Electricity, interest subsidy, 50% exemption for overdue loans gave major relief to powerloom industry. Made ardent efforts to diversify the conventional powerloom industry into value added industries like garment making and hosiery. His dream to transform the textile town into hi-tech city has come true in the wake of globalization. Because of his sustained efforts the textile town of Ichalkaranji is being briskly transformed into atomization and is known as the biggest centre of shuttleless looms in the country. An ambitious project of textile park & industrial estate is being established on 200 acres of land which will provide ultra modern infrastructure to the growing textile and allied industries in & about Ichalkaranji. This in the future will be known as hub of modern textile activities such as technical textile, garment and other high-end textile products
Mr. Swapnil Awade serves as the Chairman at Mahalaxmi and Awade Industries. Under his visionary leadership Mahalaxmi is growing leaps and bounds from being a domestic garment firm to world class player in the fields of garment manufacturing. He has lead Mahalaxmi from mere 10 stitching machines to what it is today, a set up of 1000 plus machines for stitching , cutting, washing, dyeing etc. and further expanding to sate-of-the-art ultra modern specialty machines facility, to be one of the very few in India.